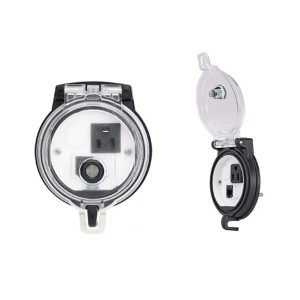 Panduit, a leading global provider of electrical and network infrastructure solutions, has launched a new Circular Data Access Port (DAP) that provides data port and electrical outlet access to equipment without the safety hazards of opening the panel.  
The new Circular Data Access Port (DAP) is designed to mitigate electrical safety risks at worksites by eliminating the need to open the panel door when programming or troubleshooting equipment such as Programmable Logic Controllers (PLCs), Variable Frequency Drives (VFDs), and industrial networks, resulting in reduced costs and increased efficiency, while promoting the overall safety at the worksite.
The Circular Data Access Port (DAP) features and benefits include:
Easy Installation – the circular frame design allows for data access ports to be installed quickly and effortlessly by using a standard panel punch. This provides cleaner installation and more than 50% in labor savings versus the traditional drilling and sawing approach.
Design Flexibility – the modular input design allows for RJ45 jacks, circuit breakers, USB, and other modular connectors to be interchanged at any time. This allows maximum design flexibility, adaptable inventory, and field upgradeability.
Security – Data Access Port has a quarter-turn lock and provisions for Lockout/Tagout products or a padlock, all of which provide exceptional security. Mounting screws are covered to prevent tampering or unauthorized removal of access port from the control panel.
Complete Compliance – all parts numbers are Rated Type (UL, CSA, NEMA) 4, 4X and 12, reducing the need to stock different SKUs for different rating listings.
Power Outlet Options – in addition to the Simplex and Duplex GFCI outlets, outlets that incorporate standard 45mm International outlet styles are available.
Custom Marking – is available for customers to place company logos or graphics on the cover of the 3" and 4" data access port models.
The Panduit Data Access Port (DAP) is internationally recognized with the CE Mark and complies with IP 65 and IP 66 per 60529 and is rated to UL50, UL50E, UL508A, CSA C22.2 NO. 14-13, and CSA C22.2 No. 94.1/No. 94.2.
For more info click here or contact our team at 972-9-8924444 info@schneider.co.il