Liebert's Data Centers chillers are designed for business continuity and high energy efficiency. The chillers can resume full operation within 60 seconds from power outage (Fast Start) and can achieve (with PCW CRACs and CRV in rows) pPUE as low as 1.15 in the Jerusalem climate.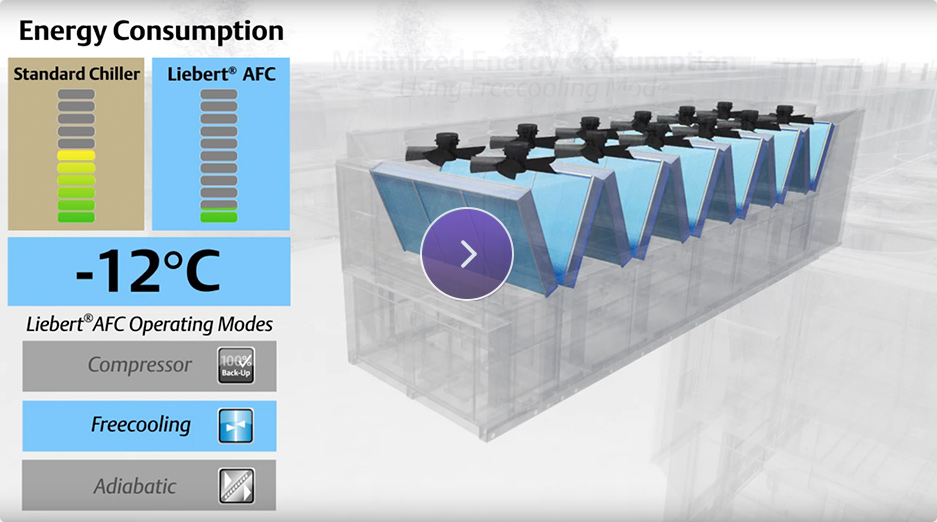 ---
Free Cooling Chillers
Liebert AFC and HPC free cooling chillers combine the outstanding levels of energy efficiency allowed by free cooling together with the endless availability guaranteed by the multi-scroll or screw compressors.  Chillers models are available up to 1500KW each.
---
AFC Free Cooling with Adiabatic option
The Liebert AFC – Adiabatic Free Cooling Chiller, combines three key cooling technologies: adiabatic, free cooling and mechanical cooling. This combination of technologies allows the Liebert AFC to achieve the highest efficiency levels and guarantee continuous availability even under the most critical conditions. With a Fast Start feature, Liebert AFC, also ensures that capacity is fully restored in 60 seconds following a power restart, thus guaranteeing the unit's immediate activation. The control, further, continues operating without the need of an external single phase power sup.
Liebert AFC adiabatic technology is designed to increase free cooling capacity and extend free cooling operation at ambient air temperatures up to 30-32°C. Furthermore, full operation of the backup compressors is guaranteed up to 50°C, thus ensures continuous cooling availability also at extreme ambient temperatures.