Flexible efficient cooling for small rooms and Edge applications
The Vertiv VRC split rack cooling system brings flexibility and efficiency to small-space cooling. It is ideal for protecting critical IT equipment in server rooms, network closets, and edge computing spaces where rejecting heat into the building isn't an option.
Providing up to 3.8 KW of IT server cooling in a space-saving design, the system includes an outdoor unit that rejects heat into the ambient air, allowing it to operate efficiently regardless of building architecture. The energy-efficient features and scalable capacity of the Vertiv VRC
system solves a variety of cooling issues even in your most challenging small spaces.
Key benefits: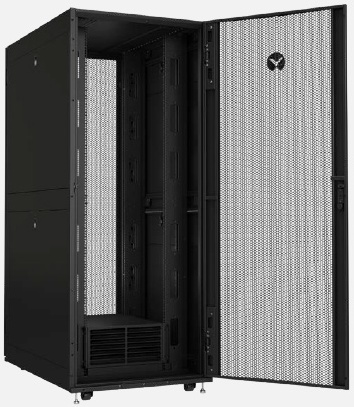 Takes zero IT floor space
Low Operating costs – unit always adjusts it's cooling capacity and airflow to match the actual server needs
Advanced controls providing high-temperature stability
Easy adaptability – Fits any 19" rack
24/7 operation
Provides peace of mind and simplified management with unit-level or remote monitoring capabilities
Rich accessories included
The Vertiv VRC split rack cooling system consists of indoor and outdoor units connected with two field-installed copper pipes. The heat removed from IT equipment is transferred through the pipes and rejected outdoors into the ambient air. The indoor unit fits into most standard racks.
IT managers can monitor the status of the Vertiv VRC split cooling system on the unit's display or remotely using the plug-in SNMP communication card or Modbus RTU. If cooling ever falls outside of predefined thresholds, staff will receive instant notifications and can take action to protect valuable IT equipment.
For more information, please watch the recorded presentation (in Hebrew) of Menni Hoffman, Channel Sales Manager, in which he introduced the system and its benefits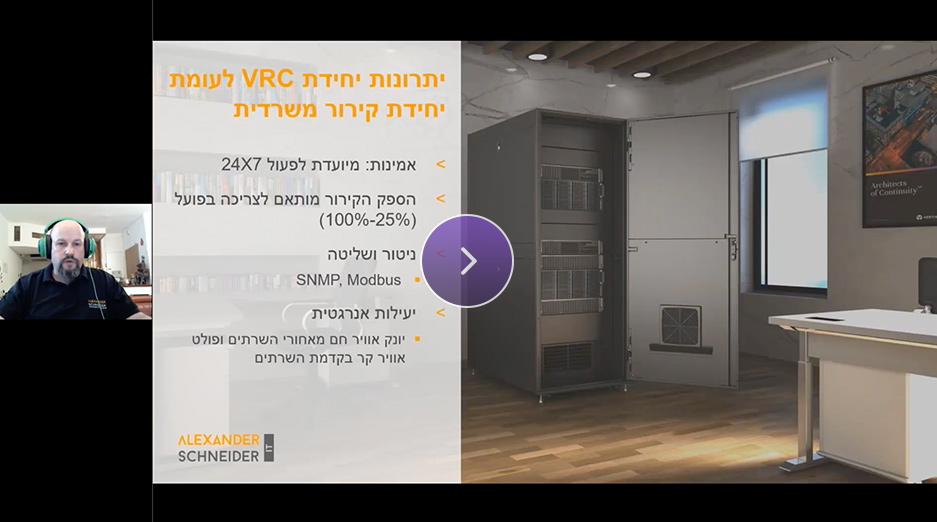 Also, please watch Asaf Noy, our Service Manager, demonstrates why Vertiv VRC split rack cooling system is the ideal solution for Edge applications and small spaces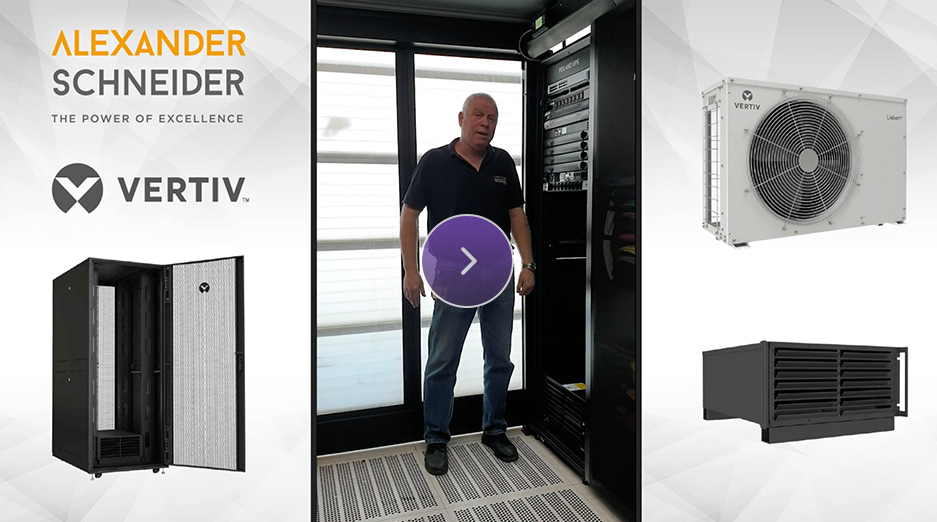 Alexander Schneider is the sole distributor of Vertiv's solutions in Israel.
For more, contact our team at info@schneider.co.il or 972-9-8924444  and we'll be happy to find the best solution for your specific needs.