LEED certification is gaining momentum in Israel. With Panduit category cable and connectors, you can earn points towards your LEED certification.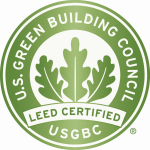 Everyone is talking about sustainability these days. LEED (Leadership in Energy and Environmental Design) was developed by the U.S. Green Building Council (USGBC). It includes a set of rating systems for the design, construction, operation, and maintenance of green buildings, homes, and neighborhoods that aim to help building owners and operators be environmentally responsible and use resources efficiently.
LEED points are given to building projects that have at least 20 different permanently installed products from at least 5 different manufacturers that have EPDs and HPDs. Each product can contribute towards two LEED points; one for an EPD (Environmental Product Declaration) and the second for an HPD (Health Product Declaration).
LEEDv4 projects can earn points during certification for installing Panduit cable & connectors with EPDs and HPDs. Panduit offers Environmental Product Declarations (EPD) for RJ45 jack modules and copper cabling. This achievement makes Panduit the first manufacturer to offer EPDs on both connectors and cabling. Health Product Declarations (HPDs) are pending for the same products. These EPDs and HPDs can help your project achieve LEED status.
Connectors: RJ45 Jack Modules CAT 5E, CAT 6, CAT 6A, click here
Plenum cable: 4-Pair & Multipair Copper Data Cable, click here
Riser cable: 4-Pair & Multipair Copper Data Cable, click here
Contact us at 972-9-8924444 or send us an email info@schneider.co.il  and our tech support team will be happy to answer your questions and identify the right products with EPDs & HPDs for your specific needs.